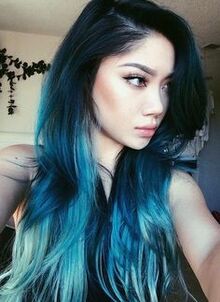 Azure
Aliases

Az

Gender

Female

Skills

Water

Lover

Tate (Breathless)

Friends
Source
Azure is Jacinda's closest friend and she is a Water Draki, a draki that is able to breathe underwater. 
Background
Edit
Like Jacinda, Tamra and the other members in the Community, she's a draki, a dragon that can change to human form to hide herself from humans surrounding her. Azure, is a Water Draki, a common species.
Personality
Edit
She's friendly with the most of the people, she is funny and gentle.
Appearance
Edit
Human shape: Sea green eyes, black hair with blue streakes.
Draki shape: Blue skin and wings, same eyes as human shape.
Relationships
Edit
Jacinda is her best friend.