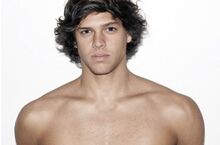 Cassian
Gender

Male

Age

18

Skills

Onyx

Parents

Severin (father)

Siblings

Miram (sister) †

Relatives
Love interest

Jacinda (one-sided)

Occupation

Heir to the Pride

Source

Cassian is the prince of Jacinda's pride. He cares deeply for her, and often goes out of his way to help her.
Background
Edit
His father, Severin, is the alpha in Jacinda's pride. Nothing is known of his mother. Miram is his sister and Corbin his cousin. He has lived in the pride all of his life. As an extremely powerful Onyx draki, he is heir apparent to his father's throne, although Corbin often competes with this.
Personality
Edit
While he tries to show no sign of emotions and keep calm at all times, inside Cassian is kind and passionate. While he always wants to do what is best for the pride, Cassian has other desires than what his father has set out for him.
Appearance
Edit
In his human form, Cassian is extremely tall at six and a half feet tall, has olive-colored skin, and has a strong build. His eyes are an extremely dark shade of purple, and his hair is dark with violet strands.
In Draki form, Cassian has black, slightly iridescent skin, and a powerful body.
Relationships
Edit
He is deeply in love with Jacinda